What is a leg wrap?
It is a removable wrap covering the whole leg from just under the inner groin to just above the ankle bones. It is usually made of soft fabrics with 2 or 3 aluminium bars underneath the fabric to make it stronger and which helps to keep the knee straight. The leg wrap is commonly secured using Velcro.
Why do we use leg wraps in physio?
The aim of using a leg wrap is to keep the knee from bending. This is particularly useful after a child has had orthopaedic surgery to their knee and has just come out of a rigid cast. Unlike the rigid cast, the child can have some time off from the immobilisation to their knee for some active leg exercises and the child can have a proper shower or bath.
The leg wrap also provides a prolonged stretch to the soft tissues behind the knee. Therefore, your Physiotherapist may ask you to put the leg wrap on your child when they go to sleep at night or when your child is sitting with their legs out in front (long sitting) while they are watching the TV at home.
The leg wrap provides good stability to the legs and prevents unwanted knee movements so your child can put weight through their legs. In very young children it stops them lifting their legs off the floor helping them to learn how to stand or walk.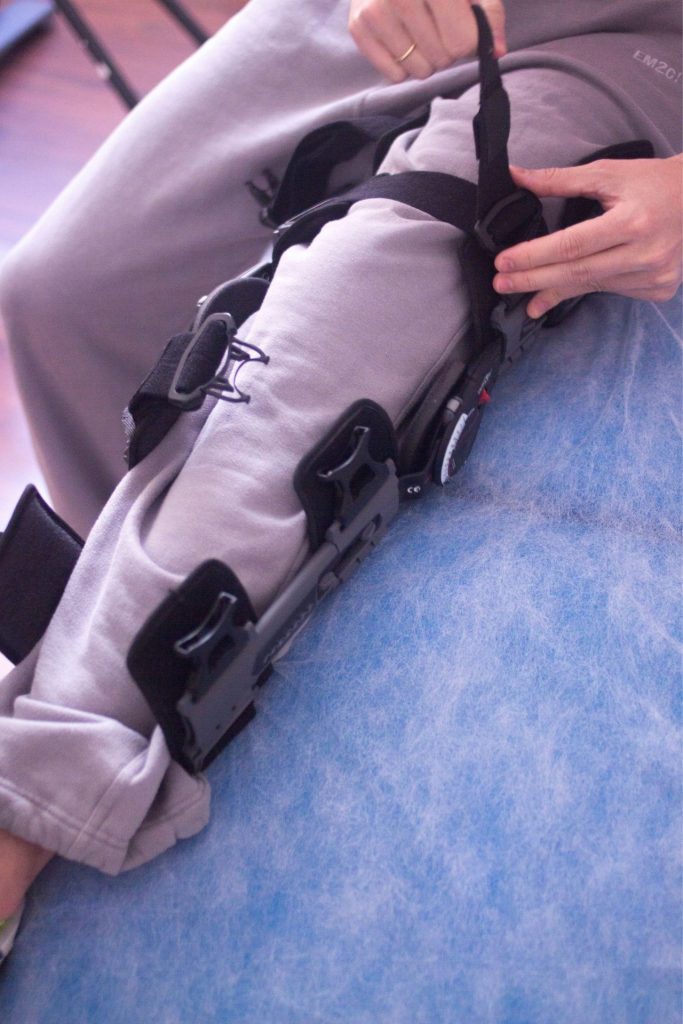 How do I put the leg wrap on my child?
It is easier to put the leg wrap on when your child is lying on their back or sitting with their leg straight. Some leg wraps have a cut out for the kneecap this needs to be placed over the kneecap when you put on the leg wrap.
If there is no cut out for the kneecap in your leg wrap, make sure that you adjust the position of the leg wrap so that the underneath aluminium bar should not be directly over the kneecap but on its sides.
How do I know if my child has grown out of their leg wrap?
Lengthwise, you should be able to put two fingers between your child's inner groin and the topmost edge of the leg wrap. At the lowermost edge of the leg wrap you should be able to put 2 fingers between the leg wrap and your child's ankle bones.
There should be some overlapping fabric when you join the leg wrap together. If you find you cannot wrap around the thigh properly and the Velcro strap starts to reach to its end, it is very likely that the leg wrap is too small for your child width-wise.
We hope that information was helpful, if you have any more questions around your child's leg wraps then please speak with your child's Physiotherapist.